Happy Wednesday!
So after polling you guys awhile ago about what type of posts you would like to see more of here on 'the blurbs' many of you said "Day in the Life" posts. A post that runs through a typical day for me and how I balance clean eating and fitting in fitness. So here's a look at a fairly typical work day for myself + a little WIAW action.
5:00 a.m.– Alarm goes off, jump out of bed, start my coffee to-go, grab a half of banana with 1 tsp. peanut butter and change into gym clothes.
5:15 a.m.- Grab my gym bag and hit the road.
5:30 a.m.– Arrive to the gym and begin my workout- Yesterday it was a long cardio day so I did a run, stair climber and 15 minutes of abs.
6:40 a.m.– Head to locker room to get ready for my day– shower, dry hair, do make-up and get dressed.
7:35 a.m.– Hit the road to work. (My gym is super close to my work so I'm lucky!)
7:45 a.m.– Make my breakfast when I get to work as I check my emails, write my to-do list and drink my tea (in my sweet Barre3 cup) before starting a busy work day. Breakfast was scrambled eggs I had made the night before with a piece of cinnamon raisin Ezekiel bread on the side and pepita seed butter!
7:45-10:30 a.m.- Work, work, work then break for a mid-morning snack. Today's snack is a energy ball made with ground walnuts, hemp seeds and organic dried cranberries. Oh, and a clementine! Whew I needed that to give me just enough energy to power through to lunch. Plus it matches my outfit… not intended!
10:30 a.m. – 12:10 p.m.- Workkk
12:10 p.m.– Stomach's starting to growl again so time to take my lunch break. My car needs new brake pads and front rotors (tis' the season for draining my wallet). I get a ride up to the car place to drop my car off then get a ride back to the office to eat lunch outside on the BEAUTIFUL 70 degree December day. (Note: lunch photos are from the exact same lunch on Monday.)
1:10 p.m.– Brake shop calls and car's done so I get a ride to go get my car!
1:25 p.m.- 3:30 p.m.– Finish up one of my last major projects of the year so it's work, work, work with a few breaks to get up, stretch and move around. I refuel at about 3:30 p.m. with an apple and Clif bar. This is a refreshing new-to-me flavor! Also please note it contains caffeine, the perfect amount of sustained energy to get me through the last few hours of my work day.
3:30 p.m. – 5:10 p.m.- Finish up things for my work project and start to get a dull headache so that's my sign it's time to leave for the day. Work day complete.
5:35 p.m.– Arrive home, check mail, put on sweat pants and wash my face. Most days I've been doing my major face cleanse and masks right after work as it helps me de-stress and take off all the dirt from the day rather than waiting until I go to bed to do it. I apply my face mask as I unpack my dirty gym clothes from the morning and begin to get things together to make dinner.
6:30 p.m.- Sit down to eat my dinner (stuffed pepper with organic ground beef, spinach, onions, goat cheese and topped with Parmesan) and watch NBC Nightly News.
6:50 p.m.- Clean up my dinner and pack my gym bag, clothes and lunch for tomorrow.
7:15 p.m.– Call my parents, sit down to write this post and do some bills/my own office work.
7:50 p.m.– Finish wrapping a few more Christmas gifts. Almost done!
8:30 p.m.– Notice my bathroom needs some cleaning so I do a quick scrub down before starting to relax for the night.
8:50 p.m.– Brush teeth and put on face moisturizer. Get in bed to read, call B and Pinterest until I fall asleep.
9:35 p.m.– Wheww I'm tired. Lights out!
So there's a look at a fairly typical weekday for myself!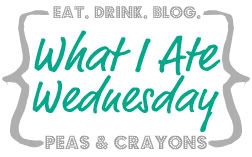 Have a happy hump day!! XOXO