There's NOTHING like falling asleep in your own bed and eating a fresh n' clean salad after being on the road for a week. I love traveling and seeing new places but when you're on the road for business and take a day of vacation it completely drains you! The feeling of being back to your routine is the best.
With that said I did my best to eat clean & fuel my body with proper nutrients while on the road this past week. Here's a few snapshots of my eats…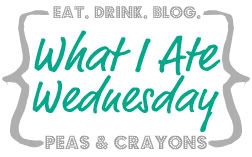 Fueled by coffee & organic snack bars. BTW–> this one from Starbucks is delicious and the ingredients list is so clean. Except so darn expensive.
Clean options while dining out–> this was Mahi Mahi, broccoli, zucchini, summer squash, tomatoes, green pepper and potatoes all steamed in tin foil over the grill. Light but still delicious!
Of course since I was in Orlando I had to head to Fulton's Crab House in Downtown Disney for dinner one night. My dad, B and I went out to eat Saturday night late after the show (so sorry for the dark picture). I ate all the crab minus the potatoes plus the corn minus the butter. Got it?! It was GOOD. LOVE fresh crab!
Most of the days when I worked the show I packed my homemade muesli mix I made before I left for breakfast. When I changed hotels Sunday to stay near Disney I enjoyed a nice big breakfast to fuel up for a fun day ahead. Oatmeal topped with cinnamon, raisins and chopped almonds and scrambled eggs + bacon!
Once we got back Monday evening, we stopped to get some fresh veggies & threw together this tasty kale salad with shrimp, grape tomatoes, kale, spinach, strawberries and walnuts. NOTHING better than fresh food once you're home I tell ya!
Have a great Wednesday!
What clean options do you look for while dining out?
I always tend to order some type of fish, typically grilled, a salad and try and sub out a side for something a bit healthier. Whether that's steamed veggies, wild/brown rice or a sweet potato.